Are we missing something here? [12 June 2015]
Why do two girls in Amsterdam seem to think it cool to name their oh so hip and trendy shop TITS. Apparently it is short for 'this is the shit' - which makes it even worse.
---
When is a Vondelpark clean up volunteer an Amsterdam primary school pupil? [21 May 2015]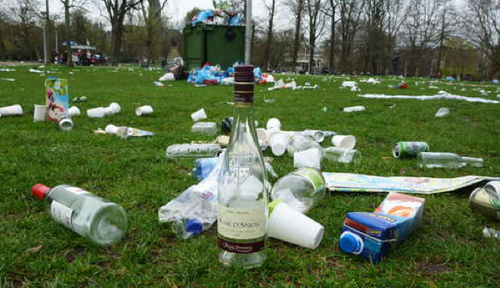 Very odd little news item in today's Parool. I translate

Volunteers clean up the Vondelpark
From tomorrow, teams of helpers will help clean up the Vondelpark. The Friends of the Vondelpark association says more is needed than just the regular city council maintenance to stop the park deteriorating. Every Friday in the summer a group will come and clear up the rubbish. Tomorrow it is the turn of the 7th and 8th grade at the Nicholaas Maes school.

So 10 and 11 year olds are being roped in to clear up all the crap left by lazy teenagers and students after the barbecues and beer are they? Seems most odd. And how much choice does a primary school kid have about being such a volunteer anyway.
I had a quick look at the Vrienden van het Vondelpark website. It talks about volunteers wandering around the park and handing out rubbish bags, which is not the same thing as cleaning up other people's beer cans. So I am a little confused.
However, the Friends are also calling for a barbecue ban in an effort to stop the rot.
'Plants and grass are destroyed, pets and animals eat the unhealthy left-overs, children and dogs face danger from glass splinters...' the website states.
Surely not the same volunteer children as are being roped in by the Friends to clear up the mess in the first place?
---
Restaurant Blauw makes us see red [31 March 2015]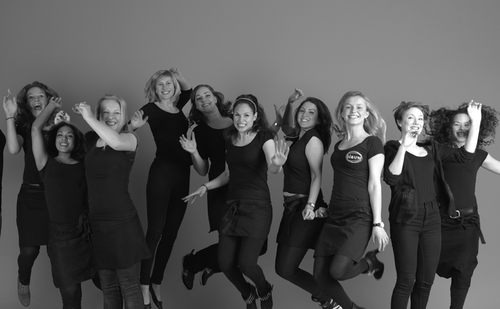 We should have been suspicious when we first looked at the website. All those arty black and white pictures of people posing with peppers, rather than food. But hey, we were out to celebrate and Blauw on the Amstelveenseweg seemed the perfect place to do it.
However....
---
A touch of class on the new-look Damrak [26 March 2015]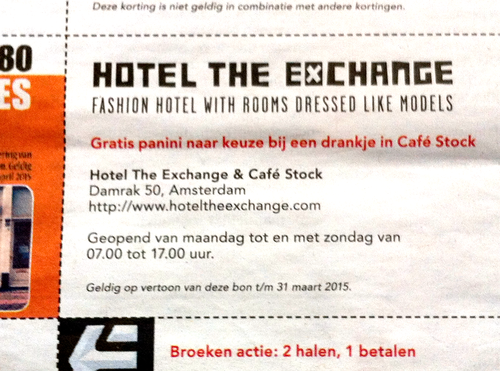 The new look Damrak has finally been unveiled - the first stage in the council's plan to develop a 'red carpet route' to the depths of the Pijp, along the route of the new metro.
This week Parool readers were treated to a load of special offers to encourage us to spend more time on what was once one of the tackiest streets in the city.
Has it improved? We really don't know. But we are very puzzled why Hotel The Exchange is describing itself as a fashion hotel with rooms dressed like models? The mind boggles. We just might have to check out the free panini.
---
Here's a cheeky little Canta in Zuidas [24 March 2015]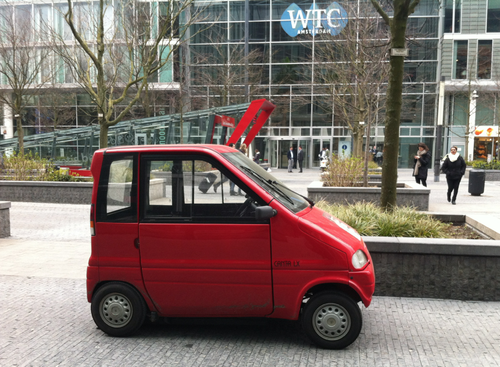 The good folk of Zuidas are very keen to keep the Zuidplein, between the two World Trade Centre buildings, clear of bikes and mopeds.
So what is this delightful little Canta doing parked just here? And where are the bike nazis - those charming city council workers who take away all those wrongly parked two-wheelers - when you need them.
---
Amsterdam rubbish [08 March 2015]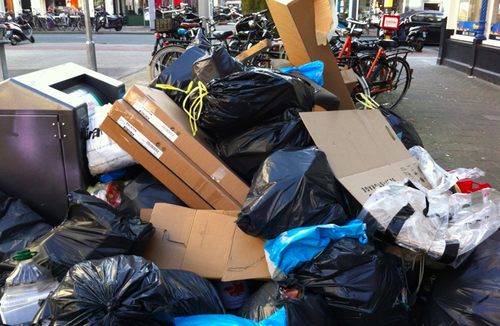 Every Sunday it is the same... when will the thickos in city hall realise underground containers don't work?
---
A slum in some third world country? No, this is Amsterdam [09 November 2014]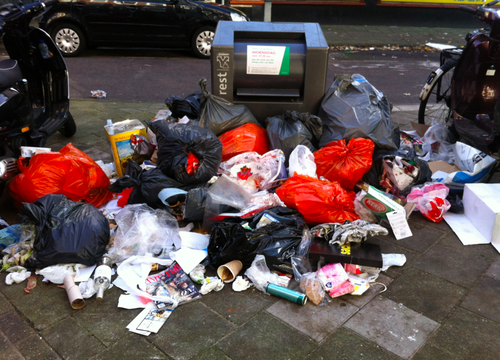 Amsterdam on Sunday morning, down the street from where we live... what a lovely view, what pleasant smells, what interesting wildlife hanging around - we specifically like the places where the rats have dug open the bags.
We've been trying to solve this problem for months and months but the council does not seem to take us seriously. And our lovely neighbours seem to have to problem with adding their crap to the pile.
What to do now? Clear it all up and dump it outside the council offices?
---
Classical music in the Vondelpark [25 September 2014]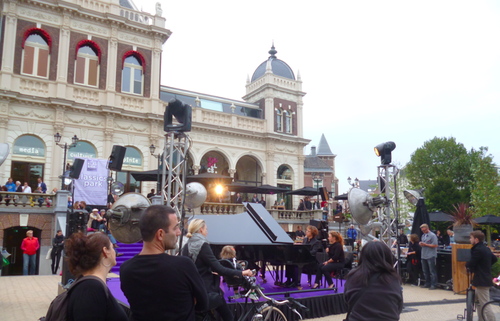 Cycling home from work past a classical music concert in the Vondelpark, courtesy of broadcaster Avro. Stood and watched for a while... Only in Amsterdam would a show like this be accompanied by an overwhelming smell of weed.
---
Heading for lunch in Amsterdam Noord [03 September 2014]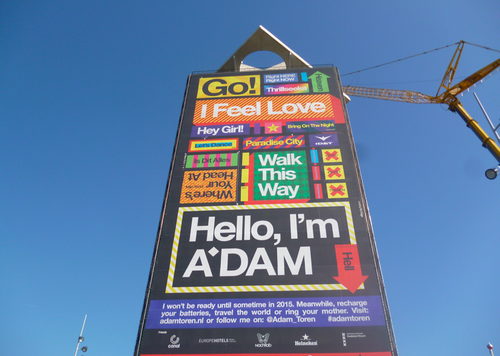 Could you ask for a better day to head over to Amsterdam Noord to meet a mate for lunch?
I've seen the enormous banner covering the old Shell building many times but this is the first time I've noticed the arrows pointing to heaven and hell. And realised all the words are song texts...
Doe Maar and Is Dit Alles, anyone?
---
We have so had enough of the underground garbage container [31 August 2014]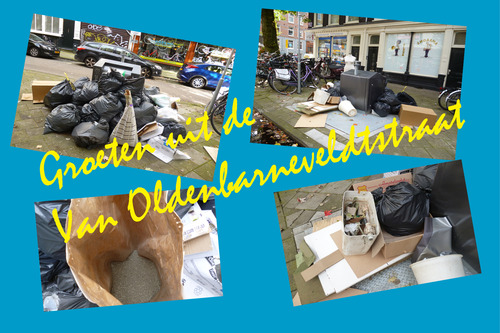 Will this perhaps get the attention of the bright sparks in city hall? The most delightful element in today's pile is a bag of used cat litter. Charming. Almost as pleasant as the broken bits of toilet.
How lucky we are to have such thoughtful neighbours.
---
Some Amsterdammers are very nice to tourists [16 July 2014]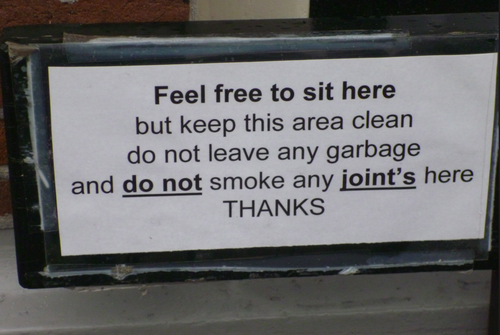 ---
Our garbage pile is getting wider as well [18 June 2014]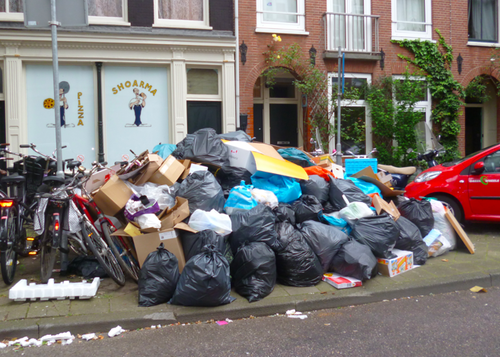 So this is how it looks this afternoon. Among the new additions to the heap are one of those silly little suitcases on wheels, bits of a bike, some plastic children's toys and a lot more empty cans of cooking oil.
---
More Tales from the City: